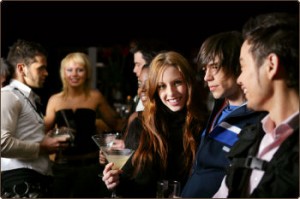 Whether you have 5, 10, 100 or 500 people in your private party, Jamie can entertain your audience and leave them amazed!
For smaller private parties up to 25 people: Jamie offers a very interactive, funny and impromptu close-up show where everyone gathers around while Jamie holds court, where everyone becomes totally apart of the special, one-of-a-kind show!

For private parties of 25 people or more: Jamie offers a fun walk-around comedy magic performance for small groups at a time, so that the party never stops. Meanwhile, Jamie is creating an unbelievable buzz throughout your party, while creating some of the worlds most amazing magic tricks with his comedic wit.
Jamie is also available for his hilarious comedy magic stand up show for parties and events.
For more details about how Jamie can make your after dinner entertainment a big success, email Jamie directly or use this contact form.